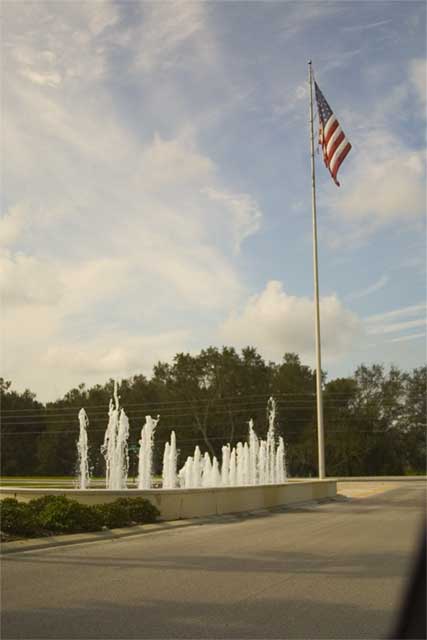 It's the American Way
Selecting Legacy

If you ever start thinking about Florida retirement the first thing you'll discover is there are a billion places you can choose in Florida. Even if you narrow down your choices, as we did, to an adult community you'll be faced with so many possibilities it will make your head swim.
So there are two issues here: first, why pick an adult community, second, why Legacy?
Adult Communities
The answer to the first is pretty easy: if you are retiring you want to be around like-minded individuals. You have done the "child" thing (or never wanted to) and while grandkids are nice to visit, you wouldn't want them living next to you. A gated community with such amenities as tennis courts, swimming pools and a set of organized activities is exactly the thing you need for your "golden" years.
We had considered, six or seven years earlier, living in Celebration, the Disney themed community. When we went to visit and I asked where the adults only section was I was given blank stares and told it wasn't good to isolate yourself in your old age. Poppycock! In my old age isolation from teenagers racing motorbikes, working on their cars, or having loud parties down the block (all things which took place in our old neighborhood) is exactly what I do need.
And while crime doesn't worry me too much, it's nice to live in a gated area where primarily residents move around. All in all living with adults only is a no-brainer.
There are some drawbacks to such a community. Rules are in place to keep you from doing anything you want, and with such structure goes the ever present two-edged sword. You certainly don't want your next door neighbor painting his house bright purple, but you'll be damned if you have to justify what color you're painting your own house. So we give up some freedoms in order to preserve the greater good.
I'm not thrilled about the lack of fences – coming from the west fences are part and parcel of our way of life – but I can deal with it. More disturbing is getting permission for what you plant in your yard, but since I'll be doing this only once or so it shouldn't be too onerous. We'll be good neighbors because we want to have good neighbors.
Legacy of Leesburg
Because we don't live in Florida (and couldn't afford to spend too much time down there) nearly all of our research had to come from the web. Luckily there is a small but knowledgeable group of folks who are willing to share the information they have gained in their own efforts. By communicating with them and by looking at all the information the various communities can provide (among them packages including floor plans and video) we were able to narrow it down to two communities within the Leesburg area.
We picked Leesburg because it fit within our definition of how far from Disney World we were willing to be – no further than around 55 minutes (which is almost exactly how far it is) so that we would feel comfortable driving in for dinner. We currently do this quite a bit between here and Reno, and many times during the summer we drive in every weekend to Sparks, which is 50 minutes away, just to see a movie. So we knew we'd be willing to go this far but no further on a regular basis.
There were closer areas – Solivita was one, for example – but nothing closer fit our other requirements, being either too expensive, having floor plans we didn't like, or being sold out. We knew we definitely wanted to build our own home, from scratch, as it would be the one time Annie and I could do this together. Being too close to DW was also an issue, as we think we are just about perfectly "out there", isolated from the hustle and bustle that is the tourist portion of central Florida .
The two candidates in this area were Plantation and Legacy, and both had similar features. Plantation was much larger, and the community facilities were top notch. Legacy was a very small development, with much more modest facilities. But there were two things that Legacy had that Plantation didn't: natural gas and floor plans we liked.
We really didn't want an all-electric home: we've both grown up with gas, and once you've cooked with gas you never want to do it any other way (that is, if you like to cook). It's also cheaper than all electric, and was just something we really wanted.
But even that might have been compromised on were it not for the fact that Plantation just didn't have a floor plan that grabbed us. There were some that were decent, some we could have lived with, but all in all there was only one plan that we really liked, that really fit all our needs, and that was in Legacy.
Couple that with the ability to lock the price of the home in during construction (something we couldn't do at Plantation) and the fact that amenities weren't all that big a deal for Annie and I and the decision was obvious.
After having been through the presentations (and knowing a lot more now) I also think the home construction at Legacy is superior to Plantation, and not by just a little. Pringle homes are award winning for a good reason. The communities are probably just as nice everywhere, but Legacy was a choice we can live with.
Of course, once we knew we wanted to live at Legacy there was just a little problem of trying to find a lot…